Discover how two mechanical engineers have navigated their careers and contributed to team projects, moderated by NSBE Boston's Ladi O!
Ever wondered how some popular products came to be? Join us as we dive into the various ways problem solving and innovation was used to create products that we might use every day as well as some products that we may not know of. Explore the journey of two mechanical engineers as they share how they have navigated their careers and contributed to team projects.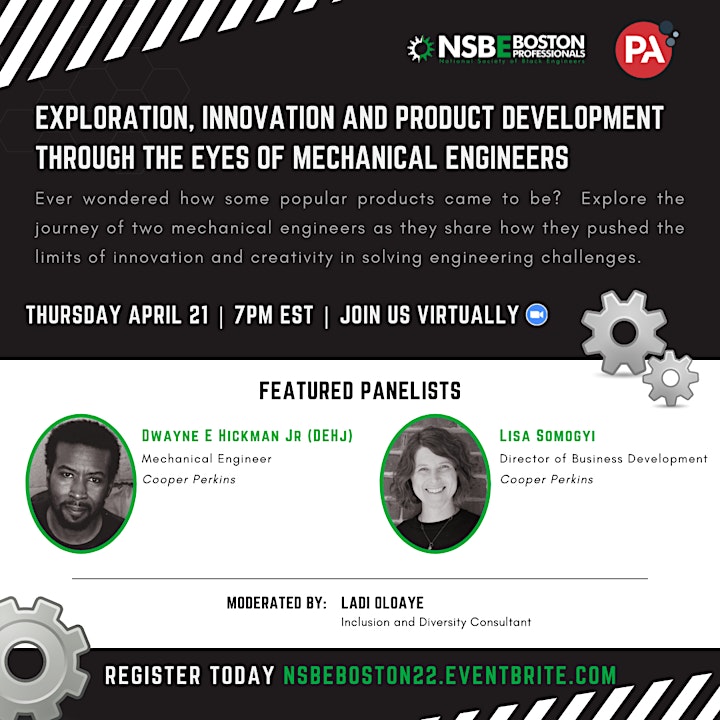 Learn more about our panelists
Mechanical Engineer, Cooper Perkins (part of PA Consulting)
DEHj is driven by a general love for technology and a passion to understand the world around him. He enjoys burrowing to the root of issues, then building a solution by leveraging the known and sprinkling in a bit of magic/innovation. When not solving engineering problems, you might find him tinkering on cars or motorcycles, doing laps at a racetrack, or just meandering through nature.
DEHj earned a BS in Mechanical Engineering and Aerospace Engineering from Rensselaer Polytechnic Institute (RPI) and MS in Mechanical Engineering from San Jose State University. Prior to joining Cooper Perkins DEHj developed solutions for an array of aeronautical and aerospace programs at Lockheed Martin.
Director of Business Development, Cooper Perkins (part of PA Consulting)
BA mechanical engineer by trade, Lisa is now in a business development role at Cooper Perkins where she can combine her passion for engineering with her natural tendency to meet new people. Lisa loves the process involved in identifying and matching the needs of potential clients with the skills of our engineers while keeping a pulse on which industries are moving forward with interesting new technologies. She gets excited to learn about the tools that are available to aid our engineers in bringing client ideas to realization. Lisa keeps her mind fresh by following her two dogs along the river or the ski trail.
Lisa earned a BS in Mechanical Engineering from the University of Colorado Boulder. She has worked in many facets of mechanical engineering, most recently as a product design leader at Suterra, driving design to improve customer experience. Lisa brings her enthusiasm of exploring the west coast design space to enhance a local presence of Cooper Perkins in the San Francisco Bay Area.