It is election season for the award-winning NSBE Boston Professionals Chapter!
Join NSBE Boston on June 29 for our Q4 Membership and Election meeting. 
Elections will be conducted at this meeting, along with a Year in Review presentation by the current Board.
Upcoming Event –  Annual Summer Boat Cruise coming this July 26!
2023 NSBE ELECTIONS Once a year, the opportunity arises for members to step forward and challenge themselves by applying for leadership opportunities on the NSBE Boston Executive board. The time has arrived!
NSBE Boston Professionals are invited to apply for the open 2023-2024 Executive Board positions. This is your opportunity to positively impact the community.
TO APPLY – visit the Elections Page for details. Application Deadline is June 23rd.
TO REGISTER FOR MEETING – Click here. 

CANDIDATE ELIGIBILITY – Paid members can submit applications. Non-members interested in applying, are encouraged to sign up for membership before applying – BECOME A MEMBER.
WHO IS ELIGIBLE TO VOTE? Voting is open to all paid members by using the online voting platform, during this meeting.
If you have questions, please contact the NSBE Boston Vice President –   vp@nsbeboston.org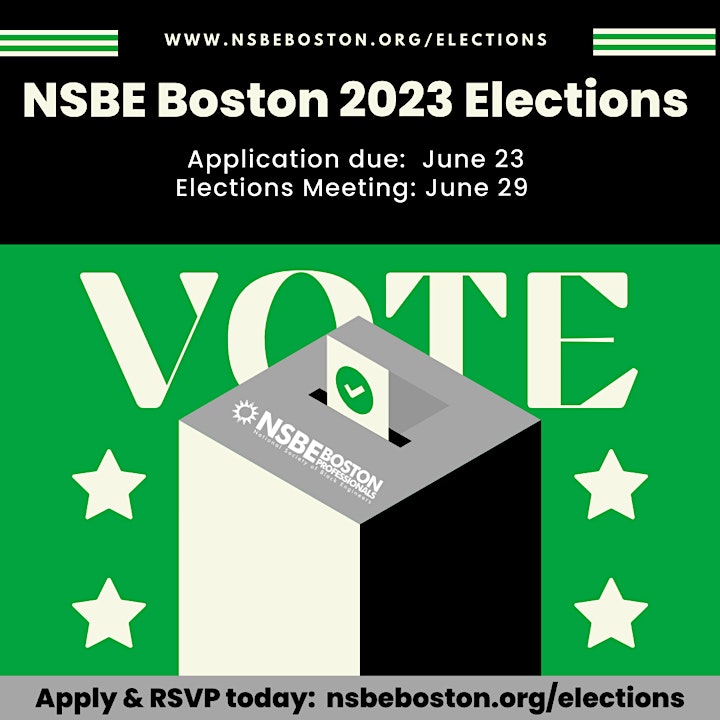 About NSBE Boston Professionals
NSBE Boston opens channels of opportunity for the academic and career development of Black students and professionals who positively impact their communities. Founded in 1988, NSBE Boston has a diverse membership of professionals spanning the New England area. For more information, please visit www.nsbeboston.org
The mission of NSBE is "to increase the number of culturally responsible Black Engineers who excel academically, succeed professionally and positively impact the community." NSBE Boston increases the number of culturally responsible Black Engineers and positively impacts the Massachusetts community through mentorship, education, and leadership training at the student and professional career levels.